C2 Limerick Board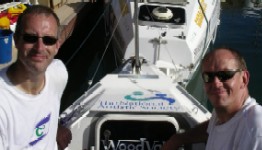 These limericks were all submitted by supporters as part of a competition, and kept the boys at sea as well as the readers at home entertained during the second month of the voyage. Tim Soutar was crowned "The Bard" for his contributions.




From: Chaucer, Shakespeare.

Across the ocean blue,
Rowed Clint and Chris - it's true.
'But they're naked' some say,
'and that sounds a bit gay.
It'd smart less by half if they flew.'



From: David

A warning note:
While surfing on mountainous seas
The crew logged incredible speeds
They were going so fast
They almost went past,
But were stopped by Antig-u-a's trees.

Best of luck on the last lap.



From: Mary S-S

The row across the Atlantic
Was anything but pedantic,
But Chris and Clint
Themselves did not stint
But sent Helena perfectly frantic.

Chris and Clint are the gods of survival
Though their bums are something adjectival.
They have stuck to the rowing
And kept on and on going.
We look forward to news of arrival.

By the terrible sweat of their brow
C2 rowed a black and white cow
At the hell of a pace
In an Atlantic race.
They're due home any day now.



From: Ian - Bucket!?

C2 had to face mid-life crises
So rowed together the high seas
They left with soft belly
And legs feeling jelly
But ended with strong bods and bicese

Crickey the wind blew them strong
Big seas their boat surfed along
Ma nature made them meek
The storms made them eek
Their strength they kept up with biltong



From: David

As you battle with waves rough and steep
There's a thought in your minds you can keep
Now Antigua is near
You'll soon have the cheer
of cold beer, a bath and....some sleep!



From: Just 4 Fun

As Helena's diary did suggest
Outside at 2am in just my vest
Bouncing on my Space Hoppa
Along came a copper
And now i'm under arrest




From: Philip Cree from Cairo again

I once knew a cow with an udder,
Whose friends rowed a boat with no rudder.
But at least they had rollocks,
Whereas she had no bollocks
(Nor anything else to uncover).



From: Tim Soutar

Positively the last one!

When they talk of lords of the sea
There's Nelson and Christopher C,
Noggin the Nog,
Kermit the Frog,
And now the boys from 2C!






From: Buttercup

While seated one day at the oars,
C realised that there were some flaws
With the day's wind direction
So he made a correction
With the rudder to stay on his course.



From: Daisy

One day Mr Andrews was rowing
When he noticed that his bum-pain was growing
So was more than a bit glad
He'd a soft sheepskin seat pad
To stop his poor bottom from glowing.



From: Jonathan P comes from nowhere

The Naked Truth

In the midst of a huge mid life crisis
Eschewing the Tideway and Isis
Andrews and Evans
Looked up to the Heavens
And yelled, Shove your stare decisis.

You may wonder what this Latin shout
Could possibly all be about.
For the Woodvale tradition
(To avoid bum perdition)
Was to row the whole race tackle out.

Favouring blisters (at best)
The pair rowed their boat fully dressed.
Although the black tie
Was hard to keep dry
Chris wore a lot more than a vest.

Whilst the salt made it itchy and rough
Clint's Harris Tweed pants were the stuff
Of Empire and nerve
Of British reserve.
Not for him rowing waves in the buff.

As satellite photos now show
They both can be seen as they row
Wearing full morning suits
Silk top hats, gloves and boots,
Whether it's rain, gales, waves, hail, sun or snow.



From: Tim Soutar

Possibly the last...

For a man whose job is to know
What chances to take and which no,
In terms of high risk it
About takes the biscuit
That Chris the Atlantic should row.




From: Matthew

A tragedy nearly came to pass
A huge tanker, a tiny rowboat, alas!
The were within a hair (no more)
Of demonstrating Newton's Second Law
That Force equals Accelaration times Mass





From: Tim Soutar

Never rowing on ocean before,
Two eminent scullers of yore,
In less than a week
Had lost their technique,
Several pounds, lots of skin and an oar.

In order to cheer on C2,
Cox H sought some rhyming from you:
A lim'rick a day
Keeps t'others at bay.
Just think what a sonnet might do!

Jerome thought three men in a boat,
Such a hoot that about them he wrote.
What he'd make of C2 -
And all of it true -
Need two volumes, at least, to devote?


There was a keen oarsman from Tyrian
Who rowed like a girl from St Trinian
Until he met Chris
Since then it's been bliss:
They now perform feats Herculinean





From: Tim Soutar

There was a keen oarsman from Tyrian
Who rowed like a girl from St Trinian
Until he met Chris
Since then it's been bliss:
And they now perform feats Herculean!



From: Philip the Fulmar

There once was a rower called Clint
Who, by falling asleep gave a hint
To his partner in rowing
Who said, Right, I'm going
To take to the oars for a stint.



From: The Little Mermaid

There once was a rower called Chris
Who leaned out the hatch for a piss
When he saw a big tanker
So deployed his sea anchor
And thus a collision did miss.



From: Rich from Atlantic Prince

There once were two rowers from Britain
And a brilliant idea they did hit on
'Lets row the Atlantic!
It may be gigantic
But we'll take lots of cushions to sit on'

There once were two blokes on the ocean
Who rowed night and day with devotion
Their bottoms grew sore
And their goolies red raw
But 'twas worth it to keep them in motion!



From: Philip Cree

My Snowman has shrunk to a stump,
And soon there'll be barely a bump
Where he once stood so tall
As huge snow-flakes did fall,
And his body was once a great lump.



From: Jo

Yesterday those nut cases Chris and Clint
Rowed 96 miles in one stint
They don't seem to tire!
They must be on fire!
As across the Atlantic they bravely sprint.



From: Daisy

There once was a rower from Bewl
Whose cow kit was certainly cool
But his high daily mileage
Instead of his silage
Was the thing that made other cows drool.



From: Buttercup

Two Cs went across the Atlantic
By rowing away hard and frantic
But the space left for resting
Was terribly testing
And their sleeping positions were tantric.



From: David

Not a limeric but on the theme...
Does anyone remember the Ying Tong Song from the Goon Show? Here is a suggested alternative to amuse the cruse.
Chorus:
Ohhhhh...
Biltong biltong biltong biltong biltong iddle I po
Biltong biltong biltong biltong biltong iddle I po
Biltong biltong biltong biltong biltong iddle I po
Biltong biltong biltong iddle I po iddle I po
Verse:
You can chew it in the daytime you can chew it in the night
But watch out for the sharks when they come asking for a bite
Chorus:
Ohhhh....
Biltong...etc.

Or perhaps try this version of the Lonnie Donnegan chewing gum song:
Does your biltong lose its flavour on the sternpost overnight?



From: Matthew G

Biltong - from the Dutch - means Rump-Tongue
More crudely, a slice from the bum
Of Cow(!), beef or game
It's more than a shame
It's cut and dried cannibalisation.



From: Stan

Chris & Clint cast adrift on the waves
Rowing the Atlantic like two galley slaves
By night & by day
Sore hands tug away
For parkinson's & autistics – what braves!

Atlantic rowing is not for the sane
& it takes much longer than going by plane
Its not funny,
it costs money
& Only nutters ever do it again





From: David

When rowing across the Atlantic
With hunger you'll soon become frantic
But chew on some biltong
And tighten your li'l' thong
Then the task may not seem so gigantic!



From: Tim Soutar

The crew had a 'crew' ere they left.
At growing it now they're quite deft,
As better be 'dread'
Than ever be red:
In that sun you don't want to bereft!



From: Karon

As we rowed along chewing our biltong,
We joined in a merry old sing-song
And told all the whales
As well as fishes with 'sails'
That our arrival in Antigua wouldn't be so long!




From: Poseidon

There once were 2 sea-going cows
Who lived, looking out in the bows
And they never were lazy,
Ol'Buttercup and Daisy
Even when waves them did dowse.



From: Matthew

To row across the vast ocean
Is quite an extraordinary notion
It needs courage and gall
But, above all
Newton's Third Law of Motion




From: Matthew

In the grip of mid-life crises
Chaps take on various vices
Fall head over heels
Buy a flash set of wheels
Only the bold decide to be Pisces



From: Matthew

Most men go for a Harley
A bit on the side, or Ferrari
But nothing so crass
For C2 (and Land Lass)
Who went for a water Safari



From: Jo

When you're approaching mid-life it's rough;
Nothing ever seems quite enough;
A fast car is too easy,
A dumb blonde is too sleazy,
But rowing an ocean -that's tough!



From: The Little Mermaid

There once were two chaps called C2
Who made up a fast rowing crew
They rang up base daily
And reported quite gaily
About how fast the flying fish flew.



From: Sally, Paul and James

There was once a pair of good Friesians
Whose bottoms were covered in lesions
A mad plan they devised
And rowed under the skies
With supporters from all different regions



From: Ian Froggatt - again!

Big Clint was faced with a crises
Alone with Chris on the high-seas
When Clint sought his bunk
Bare Chris sought his hunk
To row was Clint's only appease

Poor Clint's dilemma still grew worse
Capn Chris he wanted a new verse
Clint begged just to dream
Chris eyed vaseline
Asking are you doctor or nurse?

Clints nightmare at last abated
For one thing Chris out right hated
Was losing the row race
Or rowing at slow pace
Clint slept while Chris tugged and rated

Now Chris is known as a cart horse
Antigua he'd set as their course
C2 set to race
EDF a hard chase
He'd have his first mate in due course

At last the tale ends in humour
Chris's lust for Clint a rumour
The boys were firm friends
Nude rows means to ends
Their goal spanking Cracknell and glamour



From: Tim Soutar

Mid-race/life crisis

C2 having hit mid-race crisis
Could take no more ocean surprises
'Of rowing we're bored!
We want an outboard!
And don't much care what the price is!'





From: Karon - again!

To row on the Thames is
Not as exciting as rowing the Atlantic is
But to do it right now
in a boat decorated cow
deals with a mid-life crisis



From: Karon

to survive a mid-life crisis
you have know what life is
and what better way to know
than to row in a cow
across temperamental seasssses




From: Karon

There were a couple of gals on the Isis
Who were suffereing a mid-life crisis
So they looked at the ocean
and discovered a notion
Atlantic Rowing the 'biz is'



From: Matthew Gorman

Stuck at home with 4 kids (inc. one baby)
The racket is driving me crazy
My new New Years Res.
To ease the distress
Is to row across the Atlantic (maybe)



From: Matthew Gorman

First prize a signed pic of two blokes
Taken after x million strokes
Sweaty, smelly and rank
To be pefectly frank
I'd rather come last



From: Tim Soutar

EDF may still have the lead,
But on this, C2 are agreed:
No effort postponed,
No cheek left un-honed -
Fresians ain't no cowardly breed!



From: Ian Froggatt - take two

Two nutter in Team C2
Rowed west, the boat painted moo
Through storm and calm
Bare bums slapped in balm
At the end they sure did poo!



From: Tim Soutar

Having thought, two oarsmen from Bewl,
A trip to Antigua'd be cool,
Not wanting to pay,
They rowed all the way
And so saved the cost of the fuel!




From: William Shakespeare

When the night is dark
And the dogs go BARK
When the sky is black
And the ducks go QUACK
When the sea is blue
And the cows go MOOOOO
Think of pesky EDF
Cos they'll be thinking of YOU.



From: Ian Froggatt

The challenge to race the Atlantic
To row it you must be eccentric
C2 left Gomera
Rowed off to Antigua
What they achieved was fantastic

Mooooving along brilliantly guys. Thoughts with you all the way!



From: Graham Faultless

Chris and Clint know a few city bankers
Who said that they should slip anchor
So Carribean bound
With faithful freisian hounds
In search of golden sand they do hanker

(I know, I know, lots of technically incorrect references but since when has that ever stopped them?!)



From: Patric2k

Two boys from WestLondon went crazy
Although you shall not call them lazy
They went off on a trial - it took them a while -
in search for Caribbean daisy.