News Archive
October - We delivered our boat, C2, on 16 October to the sea-freighters who will transport her to the start. This was a big milestone in the run up to the race. Now that she's safely packed off, laden with all of our food and safety equipment, we can concentrate on some final training, and sorting out how we're going to stay in touch while we're at sea.

Chris is pictured packing up the extensive medical kit.

GoldenPalace.com sponsor us via our e-bay auction! Read all about it. We look rather moo-dy in the photos, though.
| | |
| --- | --- |
| | The UK arm of the well-known German rowing kit supplier New Wave kindly donate two of their unique cow-print breathable training shirts. It was seeing these at the World Masters Regatta 2002 that started us on the whole cow thing. |
September - We, and our boat, made a guest appearance at the Funraisers Dragon Boat Festival 2005, taking place at Bewl Water on Saturday 17 September. We offered visitors the opportunity to have a short trip on the boat and to experience the conditions that we will be enjoying during the row - except that Bewl Water is not quite the Atlantic! Check out the Funraisers' website, through this link, for more details of the event.
And our boat finally arrives back, resplendent in her unique new coat (or should that be hide).
| | | |
| --- | --- | --- |
| | | |
| Our boat shows off her new paint job - moo! | | We can't remember WHY the cow theme started, but it's been going on for a while |
August - We will be in Tunbridge Wells town centre on Saturday 27 August to raise awareness of the event and to raise funds for the charities we are supporting. Please come along and show your support. We are also hoping to attend the Hampton Court Fair on Hampton Court Green on Sunday 28 August for a similar purpose, so if you are in the Hampton Court/Kingston/Molesey area, please come along and support us.
August - While Chris was on holiday with his children in Tenerife, he managed to persuade them to make the trip to La Gomera, to see the start venue and get a feel for the task that lies ahead. Mmmmmm! It is all starting to feel a lot more real - and imminent now.
July - We have been busily preparing the boat to take on its new appearance in our colour scheme - using paint kindly supplied by International Paints, and to be applied using the skills of the guys at the Citroen/Subaru/Isuzu dealership at Fox's Badgers Mount - for which we are extremely grateful. Here is the photo of her in her undercoated state of battleship grey. Look out for the new look boat in August, when those skills will be evident for all to see!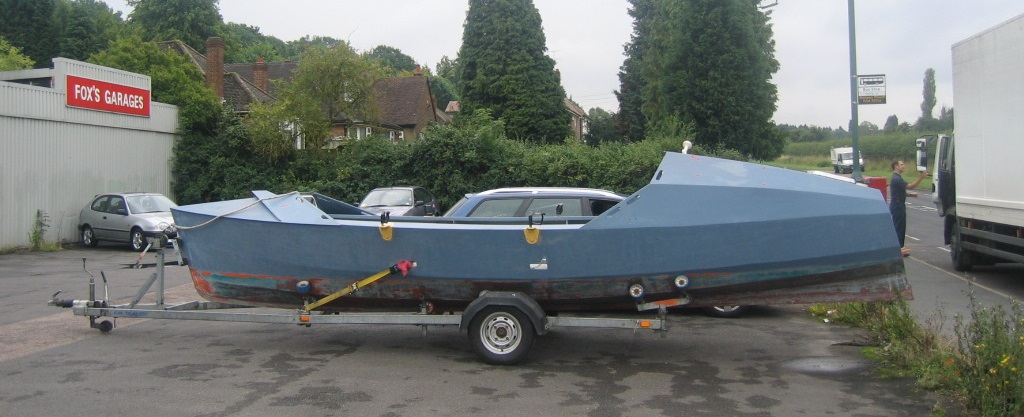 July - If you have seen the video of us trying the boat out on Bewl Water - through this link - Rowing - you will have heard the uplifting soundtrack. If, like us, you enjoyed the music, then you will be pleased to know that the band - Public Symphony - has just released its first album, including the track used on the video. The band has kindly agreed to donate to the charities we are supporting £1 from every sale of the album from people who discovered them through us. So please check out their website at www.publicsymphony.com and if you like the music, buy the album - putting [Team C2] in the address section to identify yourself as associated with us. Thanks!
June -
| | |
| --- | --- |
| We took the boat to Kingston town centre to raise awareness - and funds for their charities. We managed to raise a very worthwhile sum for the Parkinson's Disease Society and the National Autism Society - for which we are very grateful. | |
April - We are extremely grateful to Aon Professional Risks, who have agreed to become a major sponsor of the Team's challenge, joining law firm Clifford Chance LLP and the other organisations who have agreed to support the Team - whose details are on the Our Sponsors page. We are still eagerly seeking additional support (either corporate or individual), and please contact either Clint of Chris if you would like to like to help.
| | | |
| --- | --- | --- |
| | Clint and Chris are getting used to the boat which will become their home for two months (or hopefully slightly less!), and the equipment which could save their lives in an emergency. They will be attending courses in May on navigation, sea survival, first aid etc, prior to them venturing out on the sea for trial rows. | |
Once the race is underway, we hope to be able to post details of the progress of Team C² on this page, together with the [appropriately censored] contents of any messages the team sends back.